Grow your pipeline with unfair advantage
Mitibase helps B2B sales teams build high-converting and
qualified pipeline rapidly.
Request demo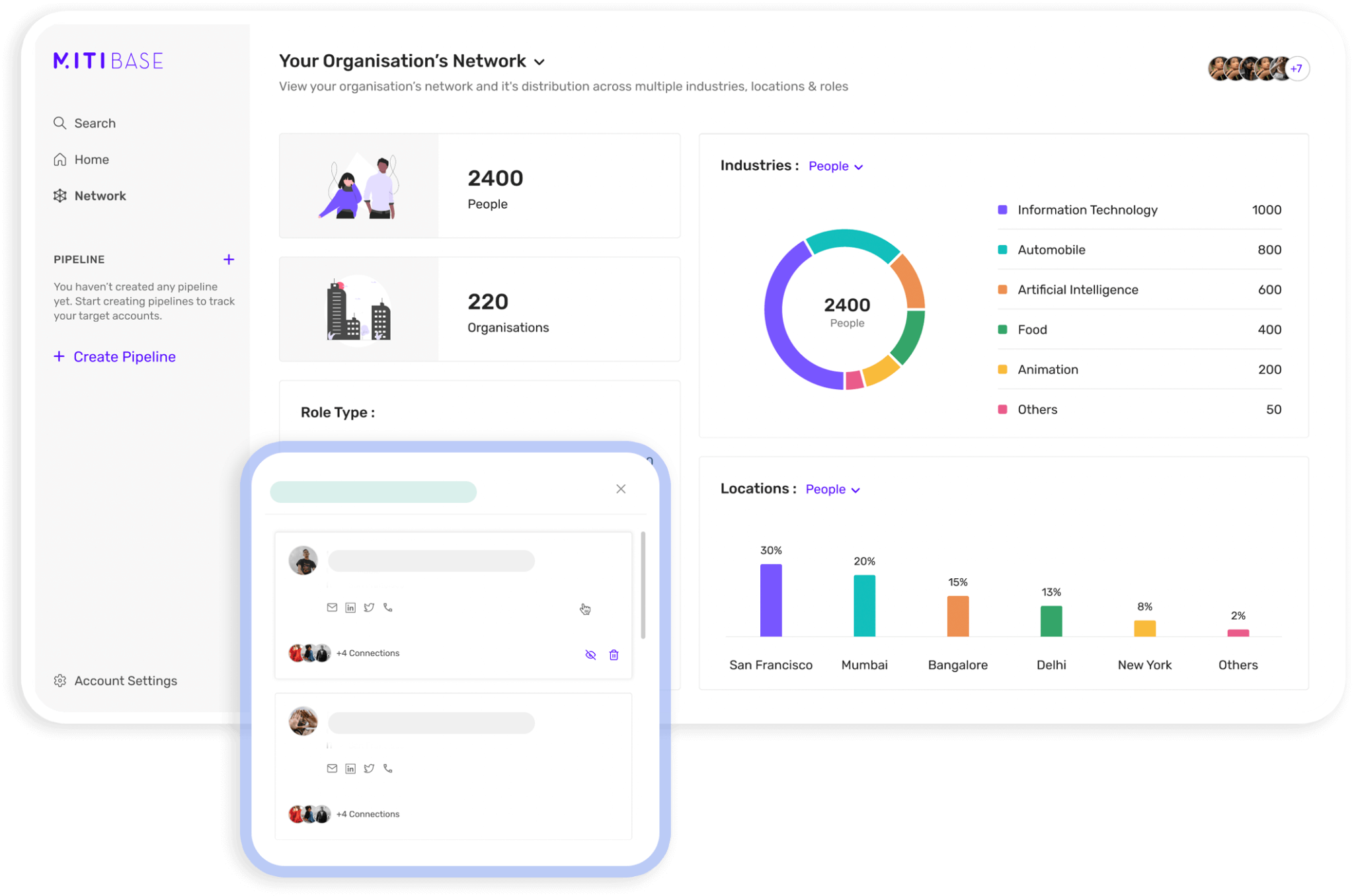 Your always-on pipeline engine
PIPELINE GENERATION
Build the hyper-focused lists
Build your hyper-focused lists of prospects with our advanced filters like using location, industry, revenue, employee count or auto-generate the list based on your ideal customer profile.
Target your ideal companies based on the tech they have—or are missing—in their stacks.
In one click, export lists to your CRM and put your workflows on autopilot.
Refresh your CRM data every month – flagging old contacts, updating existing ones, creating new ones.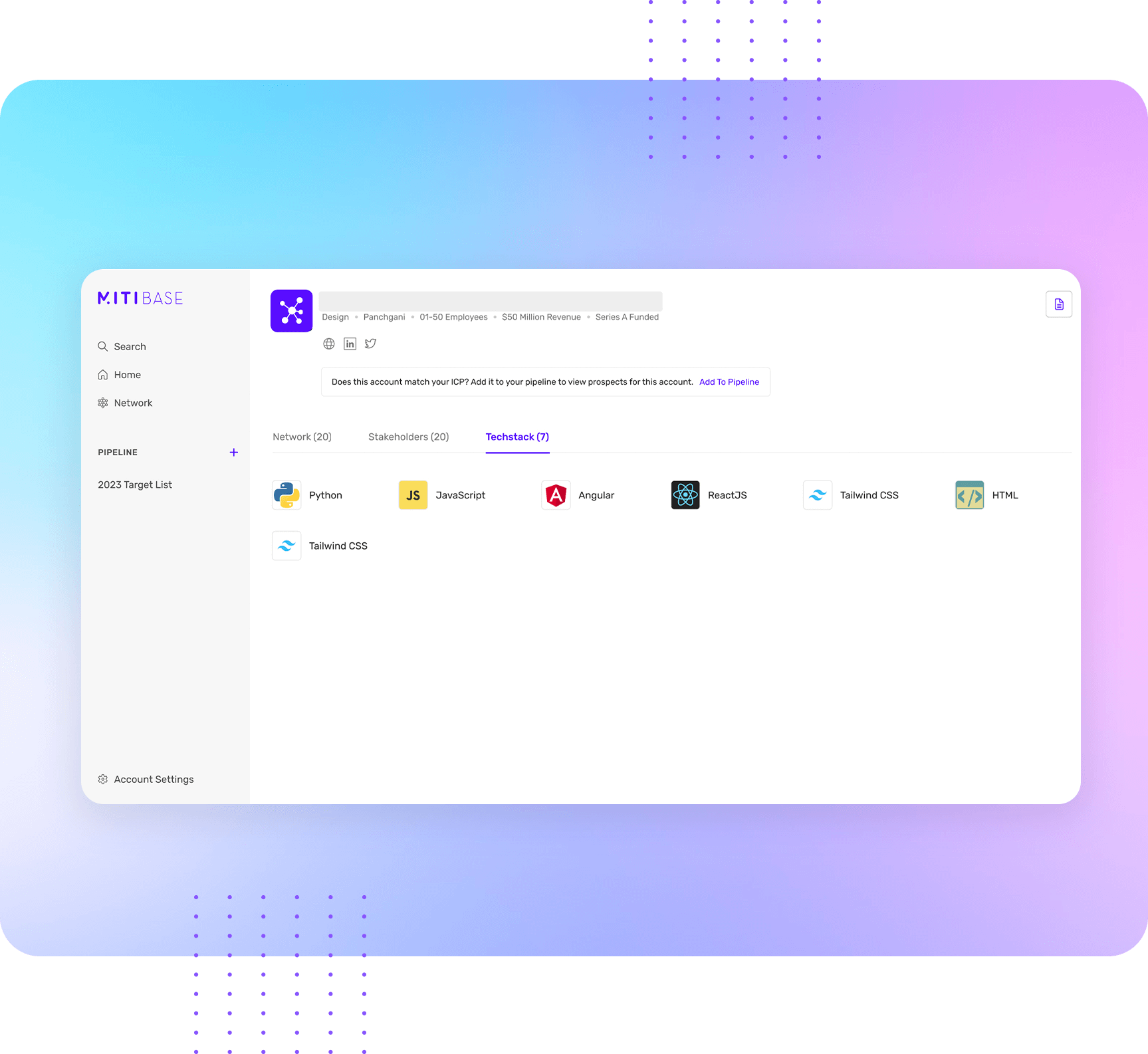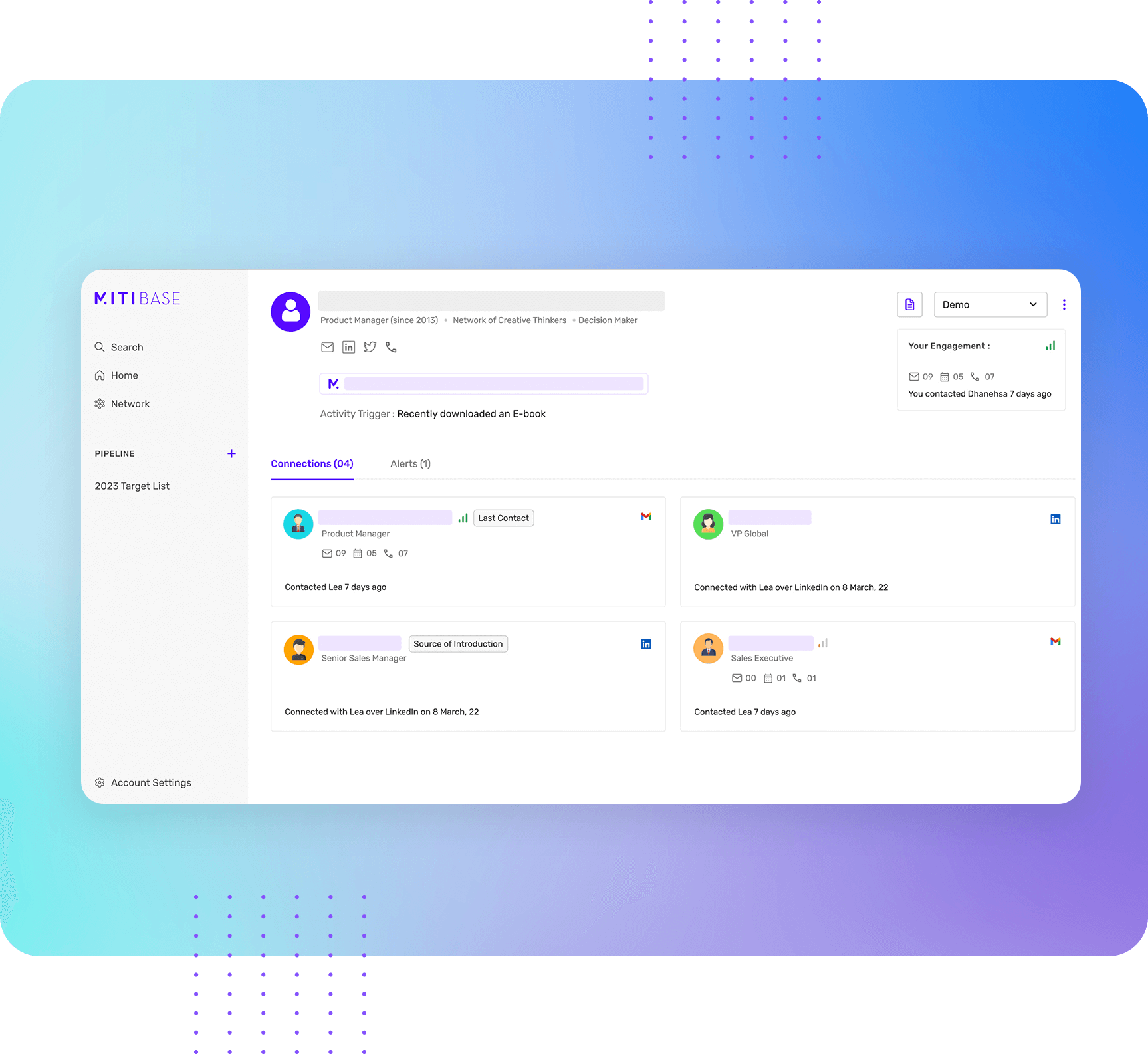 BUYER TRACKING
Grow your pipeline by following your customers, and warm prospects to their new companies.
Previous customers are 3X more likely to buy again.
Know when your key contacts change roles, leave the company, or join a new one.
Notify your salespeople of job changes via alerts to quickly salvage an open deal, congratulate your buyer on their promotion, or pursue a new sales opportunity where your buyer moved.
Automate personalized email outreach with your existing tools (Salesloft, Outreach, Hubspot, etc.) and advertising campaigns.
INTENT DATA
Discover the accounts and buyers signaling their interest and buying intent
Uncover hidden demand and identify accounts that are ready to buy.
See specific LinkedIn activities of buyers related to your interest areas to get their intent.
Track relevant news and scoops which indicates readiness to buy.
Use this intent data to create hyper-personalized campaigns, optimize existing activities, and improve engagement.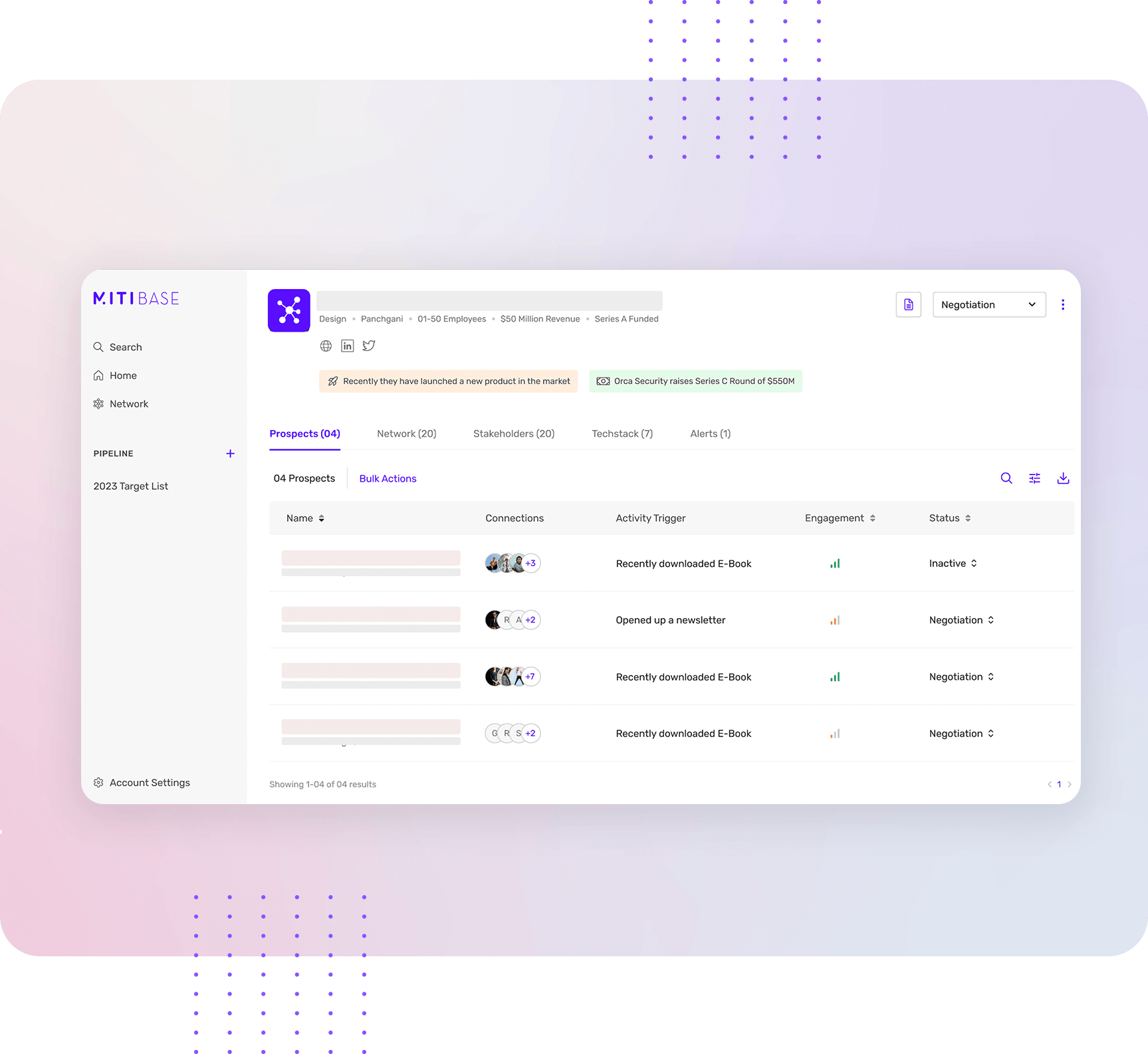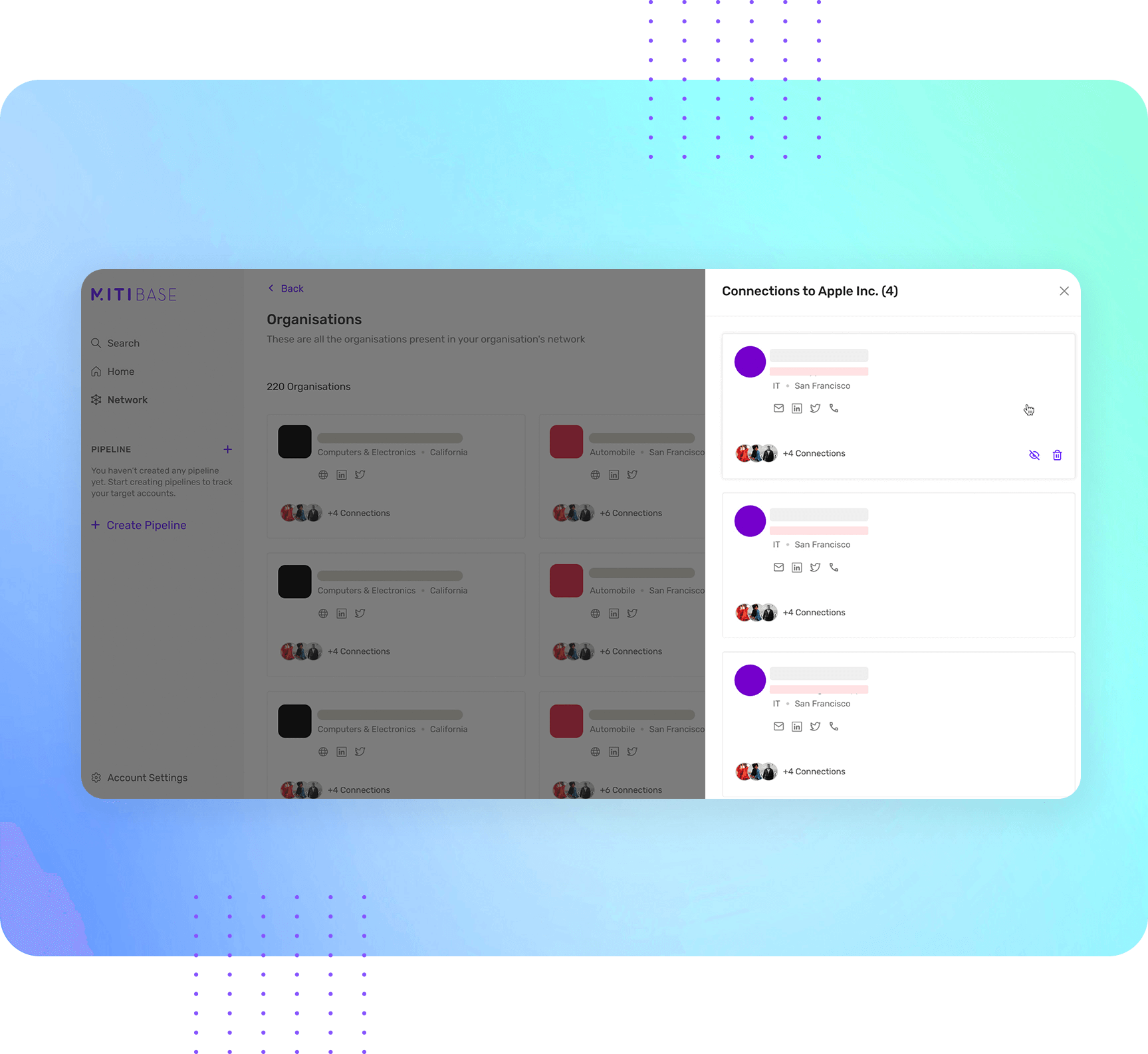 RELATIONSHIP INTELLIGENCE
Capture missed leads and opportunity contacts locked away in emails
Capture and enrich contacts from email inboxes and calendars of key people in your company to your CRM. This will create your company's collective network.
Quickly reveal who knows who, and how well to uncover a warm path of introduction that can help close a deal 25% faster.
Invite your colleagues, trusted partners and alliances to share their network and uncover new relationships and warm introductions
Retroactively capture contacts from email threads and meetings that have already happened. Say hello to the CRM hygiene that your RevOps always dreams of!
Ready to grow your pipeline